You know how sometimes you'll walk into a room and feel blown away by just how "finished" it feels? Oftentimes, there's not just one statement piece that amazes you. Rather, it's a collection of small details that shows how much thought and care the homeowner put into their space.
But between us, there's a shortcut for quickly achieving that same vibe: use under cabinet lighting.
What Is Under Cabinet Lighting?
Under cabinet lighting is lighting fixtures that you add beneath cabinets to help illuminate the surrounding space. Under cabinet light fixtures are not only fashionable, but they're functional, too. You can use them to highlight your favorite collections or place them so they conveniently light your way to the midnight snack. They work in a wide range of spaces, from lining the bookshelves in your sophisticated home office to keeping the monsters away in playfully decorated children's bedrooms.
As you enter the world of under cabinet LED lighting, you'll find a lot of different products that are optimized for different areas and uses. Here are some of the most popular options that you should know: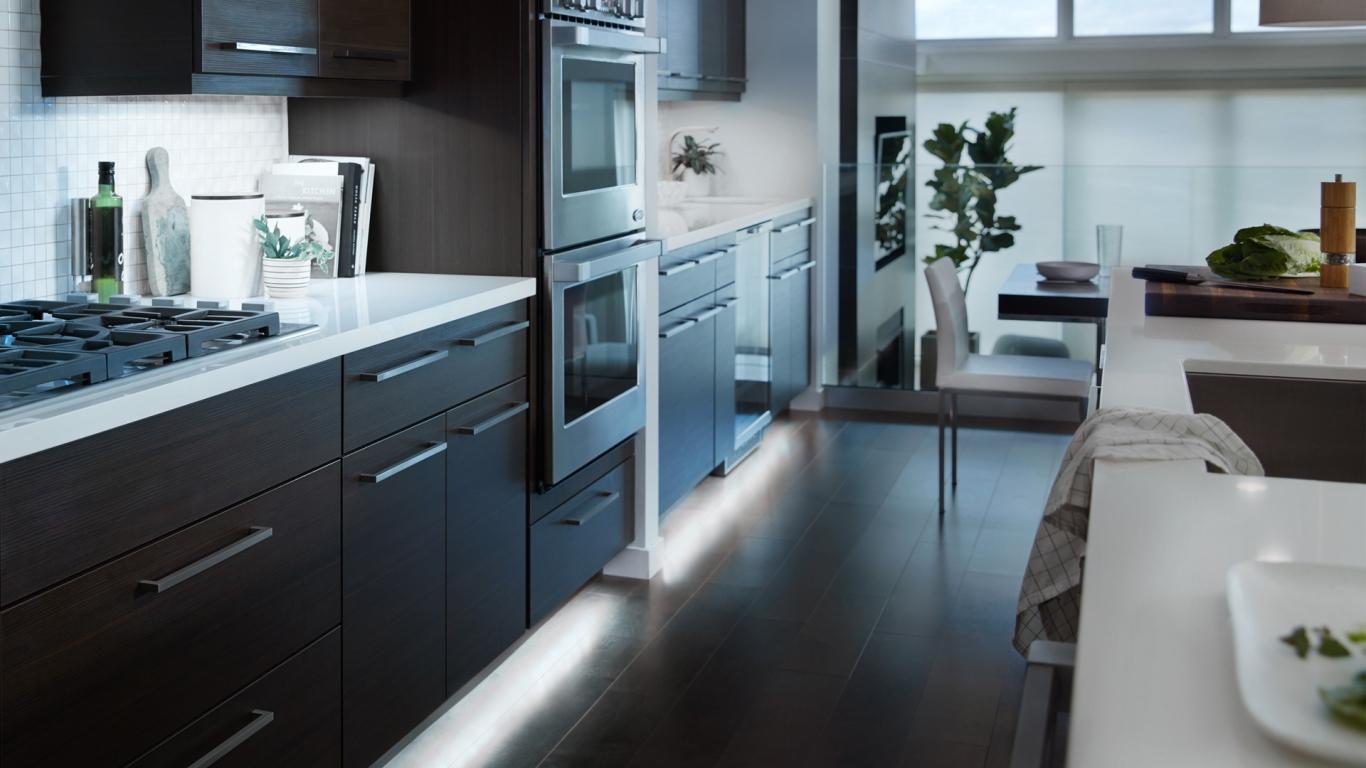 Under Cabinet Strip Lights
LED light strips are an awesome way to start your room's glow up. You can customize the shade and length of our CYNC Full Color Light Strip to get exactly the look you want. Just extend or cut our strips to fit, and watch your home become instantly more dynamic.
Then, use the Cync App, powered by Savant, to choose from millions of color options. With one touch, you can instantly switch things up and easily set the mood. Enjoy a brilliant white glow in the kitchen and show off your collection of fine china. You can even add them to the underside of a bed frame and let kids change the color scheme as often as they like.
Perhaps the best part about these fixtures? They're easily installed—simply peel and stick, and you're ready to start the party!
Under Cabinet Puck Lights
Puck light fixtures are small, round, short lights that go underneath cabinets. Our puck lights come in a variety of colors, like Warm White, Cool White, refresh™ Daylight, and RGB + White. Plus, there's great news for renters and other commitment-phobes: you can install with Direct Wire or go for the Plug-in or Battery-powered versions.
Specific models also bring their own benefits. With our Motion Sensor Puck, you can automate light so that it turns on when you enter a room—hands-free! This product also includes a daylight sensor that detects ambient light and adjusts brightness when needed. It's like the personal assistant you didn't know you needed! The Slim Puck lights offer a sleeker profile for times when you want to conceal your fixtures. The thinner shape makes them perfect for areas like open cabinets and cupboards. And the RGB Puck lights let you select from a variety of colors to create different moods in the same space. It's a discreet way to add some vibrant energy to places where you want it most, like the kitchen.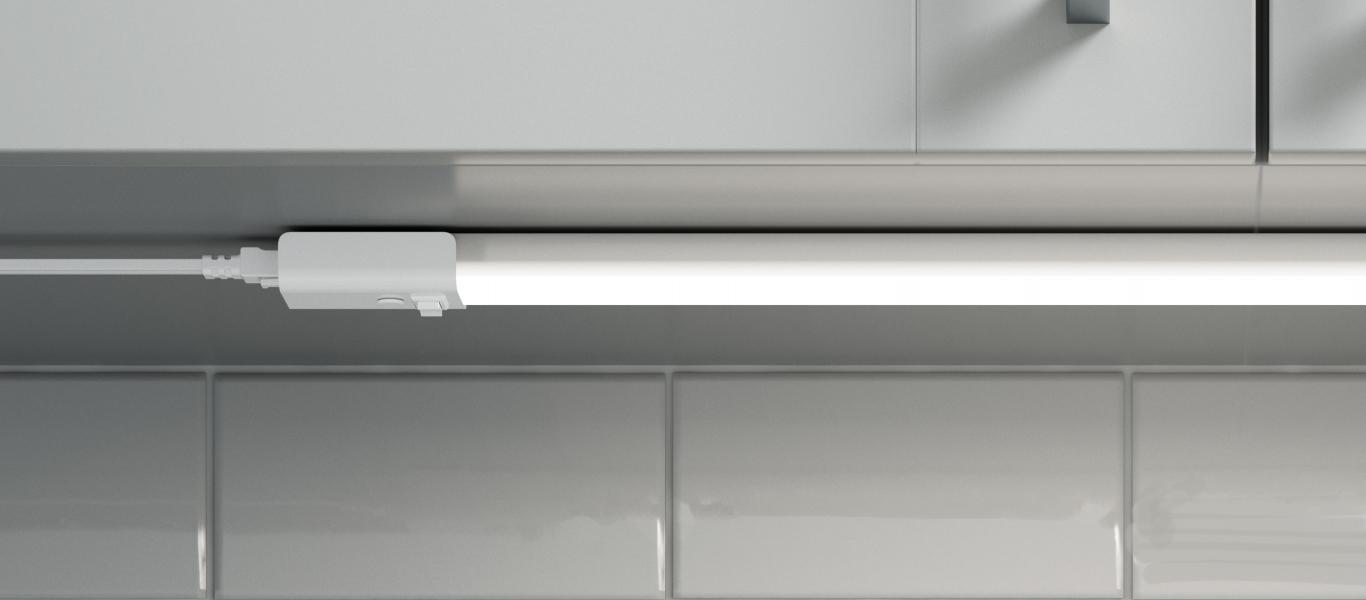 Under Cabinet Bar Lights
Bar lights, or light bars, are longer and thinner light fixtures that can also be attached under cabinets. With a variety of lengths, widths, colors, and power methods to choose from, you can use an LED light bar to improve the look of your kitchen with a simple DIY installation.
Start by measuring. We offer sizes ranging from 9" to 36" wide and include cables and connectors for linking bar fixtures together, so you can create the perfect spacing and layout for your unique needs.
Plus, certain models feature an additional outlet and USB plug so you can power your devices and countertop accessories without adding more hardwiring. You can link to other existing devices—like puck lights mentioned above—and ensure that your kitchen offers a seamless, elevated experience.
Under cabinet lighting offers so many possibilities that go way beyond your kitchen storage! When finding the best option for you, consider the size you want, the surface you're adhering to, the color capabilities you'd like to see, and any other features that are important to you (hello there, energy efficiency!). Once you've added your fixtures, you'll appreciate how much they brighten your space and enhance your style. Make sure to show us your setup on social media and tag us @GELighting!