GE Lighting, a Savant company Recalls LED Tube Lamps Due to Shock and Electrocution Hazards; Sold Exclusively at Lowe's Stores
Recall Date: June 6, 2018
Recall Number: 18-170
Name of Product: Cool White Universal T8/T12 LED tube lamps
Hazard: The pins on one end of the lamp can be energized during installation/removal, posing electric shock and electrocution hazards.
Remedy: Refund
Consumers should immediately contact GE Lighting, a Savant company to receive instructions on safely removing the LED tube lamps, and to receive a refund in the form of a $17 gift card. Consumers should make sure light switch is "off" before attempting to change LED tube lamps.
Consumer Contact: 800-338-4999 from 8 a.m. to 8 p.m. ET Monday through Friday, email at lightingconcerns@ge.com or online at www.gelighting.com and click on "Product Safety Information" for more information.
Units: About 46,000 packages of two tube lamps (92,000 individual lamps)
Description: This recall involves GE Lighting's 31243 LED13T8U840 LED two pack tube lamps. These units are most often used in garages, basements, workshops and utility rooms. The GE logo and model information are printed on a label near the tube's base.
Brand: GE
Model Product Code and Description: 31243 LED13T8U840/2PKL
Incidents/Injuries: None reported
Sold Exclusively at: Lowe's stores nationwide and Lowes.com from approximately November 2017 through April 2018 for about $15.
Importer: GE Lighting, of East Cleveland, Ohio 
Manufactured in: China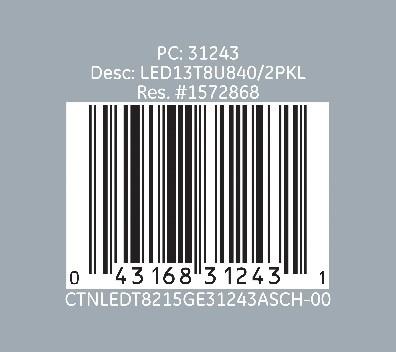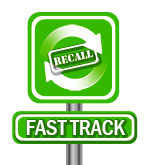 This recall was conducted voluntarily by the company under CPSC's Fast Track Recall process. Fast Track recalls are initiated by firms who commit to work with CPSC to quickly announce the recall and remedy to protect consumers.
Please complete the form below to receive your gift card.
All required fields marked with *, including an acceptable proof of purchase (photo of either all the products with the label showing for which a refund is requested (see example image below for reference), or the receipt) must be completed to submit this form.
Proof of Purchase
Example Image
Please see example of an acceptable proof of purchase: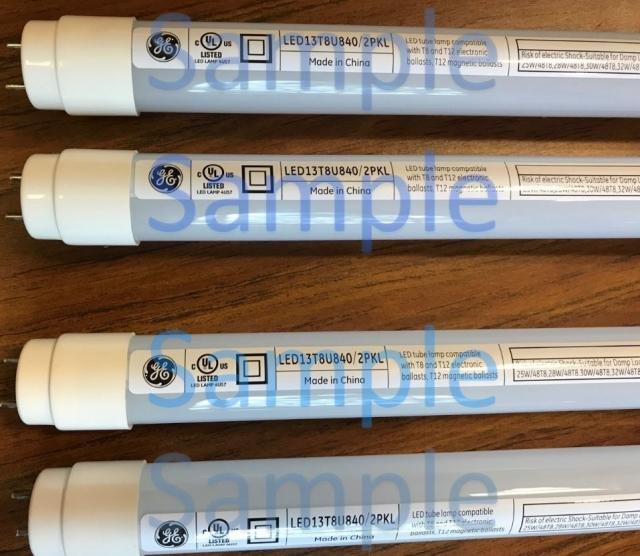 About U.S. CPSC:
The U.S. Consumer Product Safety Commission is charged with protecting the public from unreasonable risks of injury or death associated with the use of thousands of types of consumer products under the agency's jurisdiction.  Deaths, injuries, and property damage from consumer product incidents cost the nation more than $1 trillion annually. CPSC is committed to protecting consumers and families from products that pose a fire, electrical, chemical or mechanical hazard. CPSC's work to ensure the safety of consumer products - such as toys, cribs, power tools, cigarette lighters and household chemicals – contributed to a decline in the rate of deaths and injuries associated with consumer products over the past 40 years.
Federal law bars any person from selling products subject to a publicly-announced voluntary recall by a manufacturer or a mandatory recall ordered by the Commission.
For more lifesaving information, follow us on Facebook, Instagram @USCPSC and Twitter @USCPSC or sign up to receive our e-mail alerts. To report a dangerous product or a product-related injury go online to www.SaferProducts.gov or call CPSC's Hotline at 800-638-2772 or teletypewriter at 301-595-7054 for the hearing impaired.
CPSC Consumer Information Hotline
Contact us at this toll-free number if you have questions about a recall: 800-638-2772 (TTY 301-595-7054)
Times: 8 a.m. – 5:30 p.m. ET; Messages can be left anytime.
Call to get product safety and other agency information and to report unsafe products.
CSPC
Please use the phone numbers below for all media requests.
Phone: 301-504-7908
Spanish: 301-504-7800
GE Lighting, a Savant company 
Alicia Gauer
216-266-2853
We care about your privacy, please refer to our Privacy Policy to learn how we will protect the information you provide to us. 

GE Lighting,
a Savant company
GE Lighting, a Savant company specializes in creating optimal lighting solutions for every space in your home.