Bathroom Lighting Ideas for Bathrooms of Every Size
If you're like most people, you begin every single day in the same place: your bathroom. So, it's important to make sure that it has the functionality and aesthetics you need to give yourself the best possible start. And of course, choosing the right bathroom lighting is essential to accomplishing that.
There are many different lighting options and combinations, all of which provide unique results. So, it's important for you to know what you want out of your bathroom. For example, are you just looking for sufficient lighting? Want to complement your décor? Need to make your small bathroom feel more spacious? Need bathroom lighting ideas over the mirror for more clarity? Or all the above?
In this blog, we're sharing the bathroom lighting ideas you need to make sure it's relaxing, inviting, and functional.
Should Bathroom Lights Be Bright or Warm?
It really depends on what you want out of your bathroom. If you want practical lighting for safety reasons or for specific tasks, then you may want a cooler light temperature bulb. But if you want your bathroom to have a relaxing spa-like atmosphere, warm lights are the way too. Fortunately, we have light bulbs and fixtures that accomplish each one and a few that do both.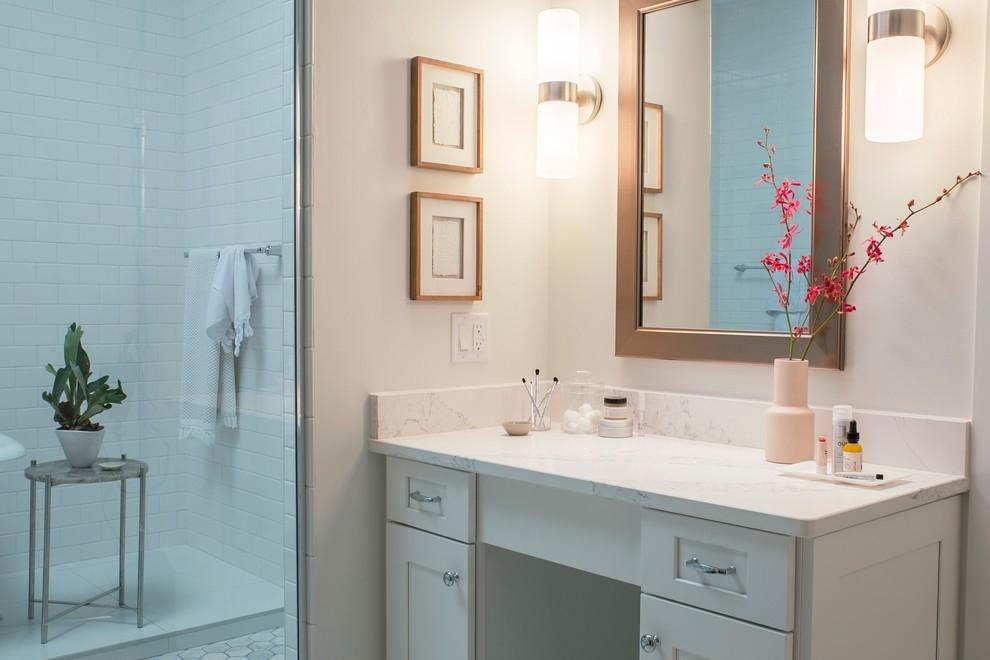 Looking for the Perfect Light for Your Vanity?
With so many different light temperatures and styles of bulbs, it's easy to find a bathroom vanity bulb to match your desired mood and décor. Here are a few bathroom vanity lighting ideas:
Relax™ HD LED Globe Bulbs
These bulbs put out the best quality of soft white light for a warm, cozy bathroom—perfect for a relaxing bath.
Refresh™ HD LED Globe Bulbs
These bulbs provide cool, invigorating light that's perfect for kick-starting the day or for energizing moments.
Reveal® HD+ LED Globe Bulbs
These bulbs filter out yellows for optimal clarity and exceptionally bold colors—which is ideal for applying makeup, shaving, brushing your teeth, or any other detail-oriented task.
Vintage™ LED Bulbs
These vintage light bulbs come in different light temperatures and bulb finishes to give bathrooms a charming throwback look.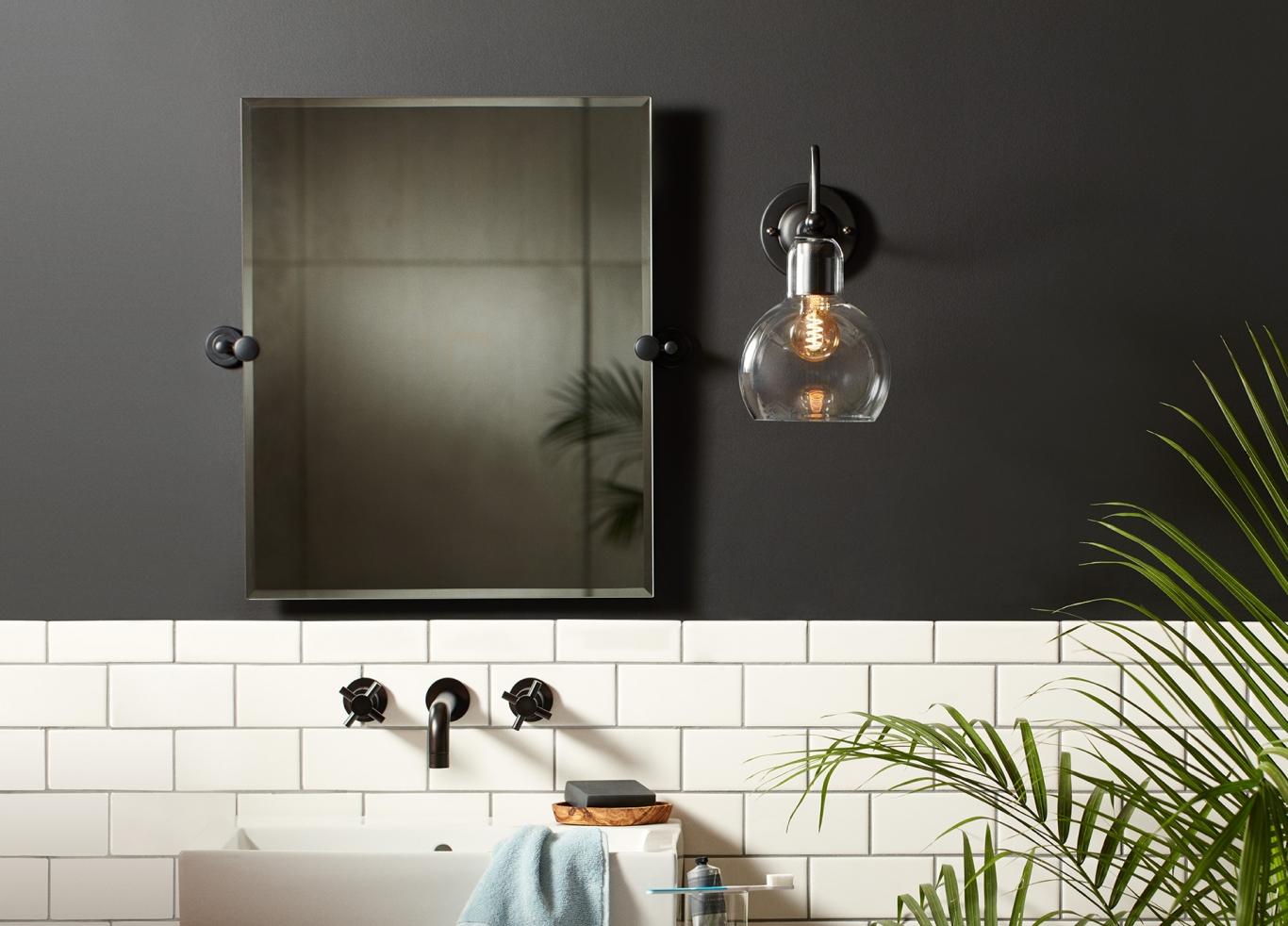 CYNC Decorative Smart Bulbs
These smart bulbs have millions of color options and the full white temperature scale. Add these bulbs to your vanity and get the smart technology you love, now with decorative charm.
Want to Make a Statement with Your Bathroom Lighting?
Light fixtures are a great way to add character and give your bathroom a contemporary upgrade. With an industrial metal appearance, our pendant lighting can add a modern flair to your space. They're foldable, so they can be adjusted to fit in any size of bathroom. And they pair well with vintage and decorative LED bulbs.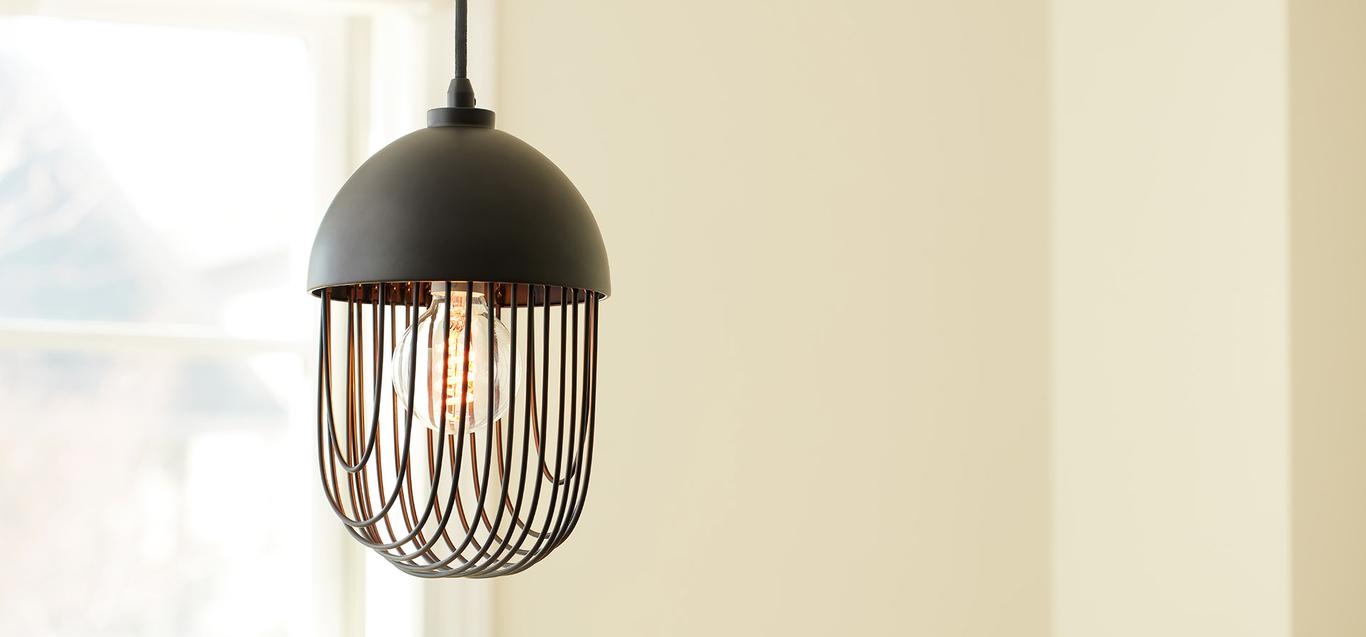 Not into modern décor? Well, oversized vintage fixtures can create the conversation piece you're looking for, while giving you a trendy old-world look. Plus, when attached to wall-hanging units, these all-in-one fixtures make smaller bathrooms feel more spacious.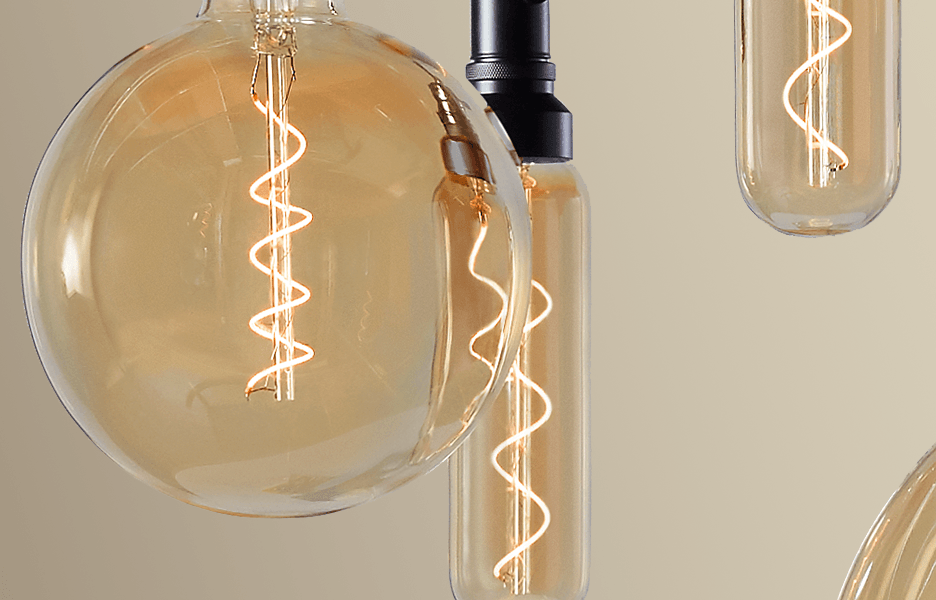 Want to Get the Most Out of Your Ceiling Lights?
Ceiling lighting has both functional and aesthetic benefits. It can minimize shadows to ensure that your bathroom is well-lit, which helps you stay safe from slips, trips, and falls. And they can be used to highlight areas of the room or provide a pop of color when needed. Here are some bathroom ceiling lighting ideas:
Recessed Lighting
When it comes to providing practical light in your bathroom, recessed lighting is a strong choice. With the right placement, recessed downlighting fixtures or cans can highlight features and even make areas (eg. your shower) feel bigger.
Smart Downlights
Looking for something that gives you more color and control options? Smart downlights come in different size options and provide millions of colors and white tones to choose from—including high-definition light with exceptional clarity. These all-in-one fixtures are an easy way to add smart control like out-of-home control and scheduled lighting. Plus, they include a remote junction box, so you can install them in an area that doesn't already have a recessed can.
LED Flood Lights
For larger bathrooms that require more light, make LED flood lights the bulb of choice. In addition to being long-lasting and energy efficient, they produce broad beams of light to minimize dark spots and shadows.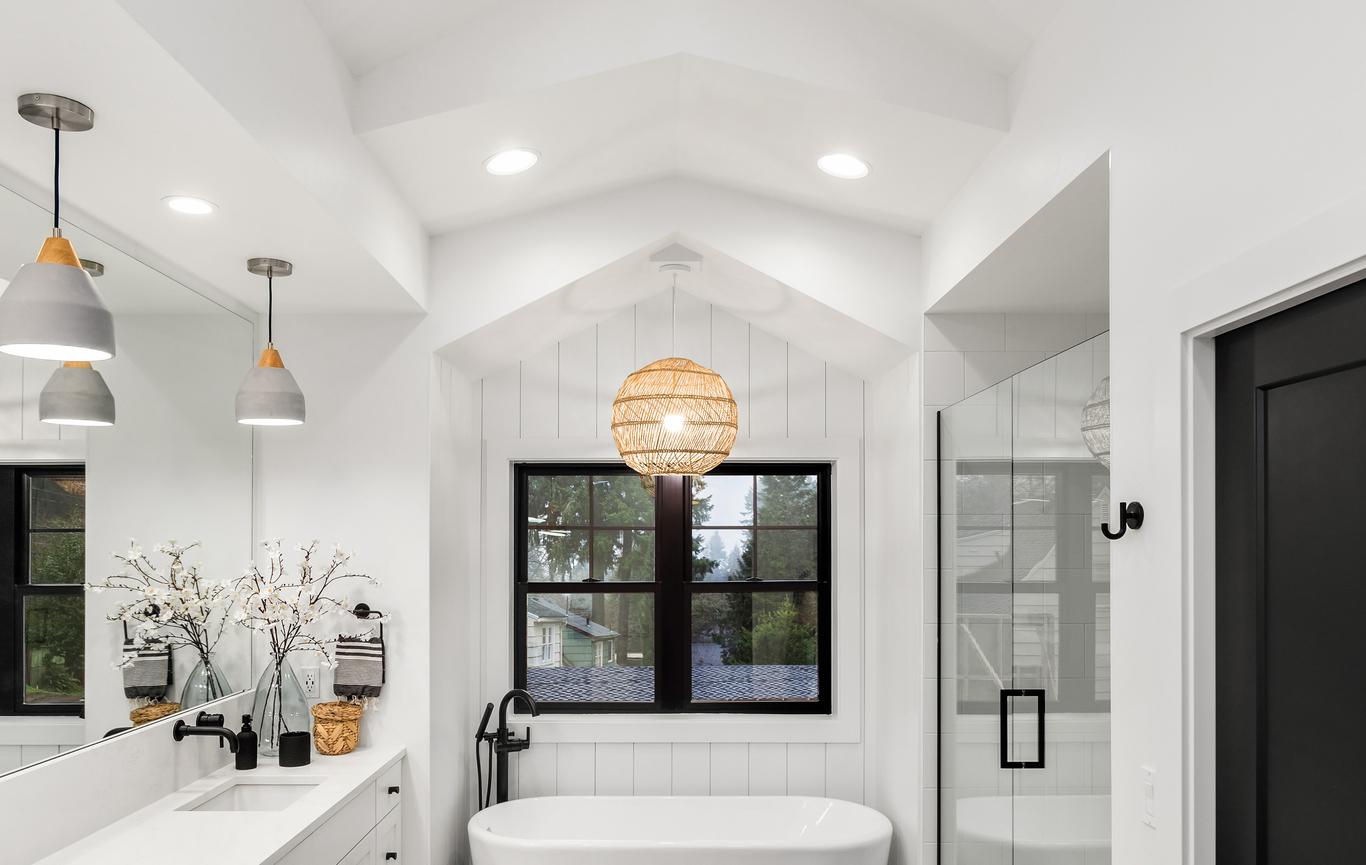 Want to Make Your Bathroom Feel More Spa-Like?
Achieve a relaxing spa atmosphere with accent lighting. Adding dimmable strip lights behind your vanity or under your cabinets can introduce a soothing vibe, a modern touch, as well as more depth and clarity.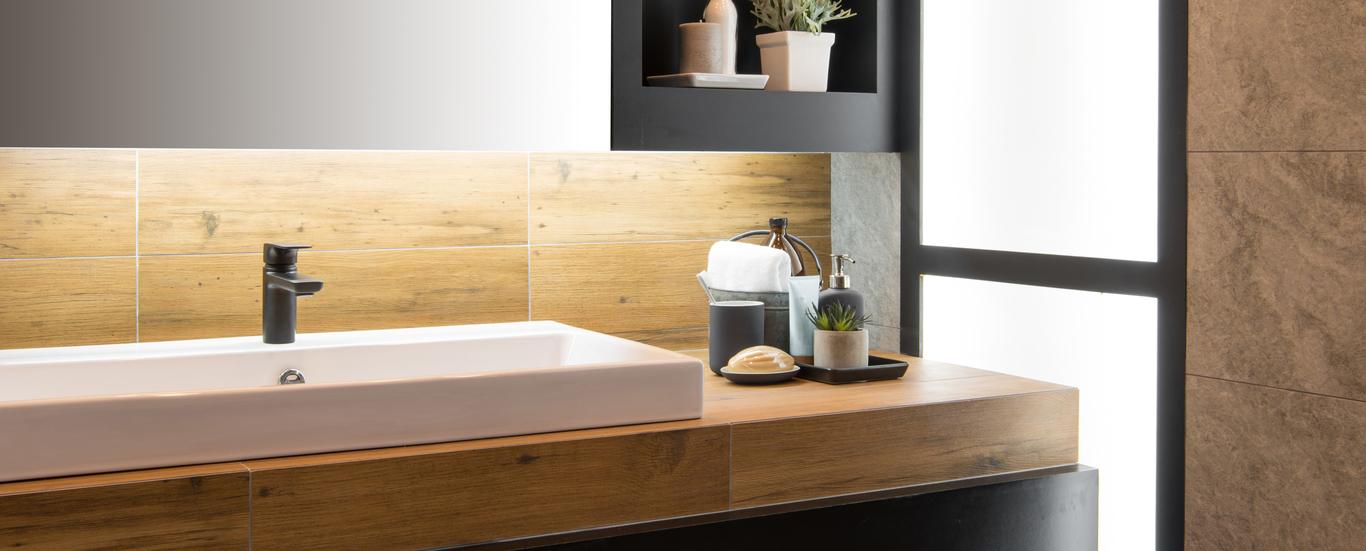 Ready to Begin Your Bathroom Lighting Redesign?
We hope you're inspired to take on some of these easy-to-do bathroom lighting ideas. You'll see the difference every morning and with every relaxing bath or shower. Did you use our tips and products for your bathroom lighting? We'd love to see the results! Share a picture with us on our Facebook or Instagram pages.