We've introduced new ages of lighting for over 130 years.
We have been at the forefront of lighting technology for over 130 years. And now, powered by Savant, GE Lighting's future has never been stronger or brighter. We have embraced our parent company's mission to provide the best smart home experience, including new and exciting advances in intelligent lighting designed to enhance lifestyle and wellness in any setting. We continue to help you create perfectly lit spaces and smart, healthy environments in which to live, work and play. We are committed to bringing innovation, exceptional value and reliability to retail partners and consumers as the number one intelligent lighting and smart home company in the world.
The future of lighting is here.
130 years of
innovation
1800s

1879 – Edison invents the first commercial incandescent lamp made of Carbon Filament.

1880 – Edison completes the world's first installation of incandescent lights on the S.S. Columbia steamship.

1890 – Edison General Electric Company is formed.

1892 – Machine-molded incandescent bulbs replace hand-blown bulbs.

1900-1930

1909 – William D. Coolidge develops the ductile tungsten filament, still used today.

1911 – GE's existing lighting business absorbs National Electric Lamp Association (NELA).

1929 – GE installs the first major application of electronic lighting controls at the Chicago Civic Opera.

1931-1940

1935 – The first major league night baseball game is played at Crosley Field in Cincinnati, OH under GE Lighting Novalux lamps.

1938 – GE invents the fluorescent lamp, the first to provide white light.

1941 – 1960

1945 – The circline fluorescent lamp is placed on the market for portable lamps and ceiling fixtures.

1959 – GE invents the halogen lamp—an industry standard for work lights, as well as film and TV due to its compact size and high lumen output.

1961-1980

1962 – GE engineer, Nick Holonyak creates the first visible LED—which set off a research boom and gave us today's new universal standard of lighting.

1974 – GE introduces the first energy-saving fluorescent bulb.

1979 – Niagara Falls is illuminated for the first time on July 4th, using 16 Brush arc lamps.

1981-2001

1981 – GE Lighting produces 3-foot long fused quartz ingots that can be drawn into fiber optic strands 25 miles in length—marking the start of the fiber optics revolution in communications.

1986 – GE Lighting provides the products and funding to relight the Statue of Liberty.

2001 – GE Lighting introduces the GE Reveal® line of bulbs which filter out dull yellow rays found in ordinary bulbs.

2002-2010

2007 – GE Lumination introduces its exclusive VIO high-power white LED—a significant milestone towards our new standard bulb.

2008 – GE introduces LED General Lighting for Lamps & Outdoor systems.

2010 – GE introduces Energy Smart LED bulbs—engineered to replace incandescent bulbs. They require 77% less energy and last more than 22 years.

2011-2015

2012 – GE acquires ALBEO, strengthening GE's LED offering.

2015 – GE launches TriGain™ technology which brings unmatched color to LED displays.

2015 – GE announces Current, an internal start-up that combines lighting, digital, solar, and energy management technologies. 

2015 – GE launches C by GE, our line of smart lighting products.

2016-Present

2016 – GE announces first Amazon Alexa embedded table lamp.

2017 – GE Launches High Definition LED Lighting.

2020 – GE Lighting is acquired by Savant Systems, Inc. and becomes GE Lighting, a Savant company.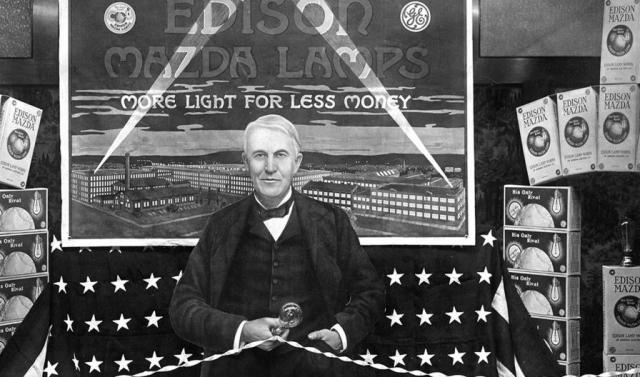 Thomas Edison & GE
Thomas Edison is heralded for his genius as an inventor. Less known is his brilliance as a business pioneer. By aligning multiple businesses to bring innovation to the marketplace, he laid the path for today's GE.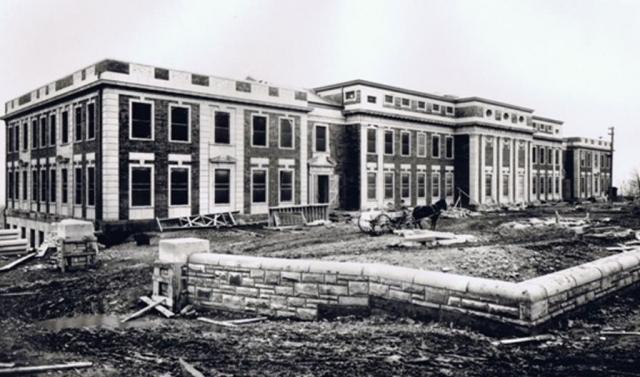 History of Nela Park
It began in 1879 when Edison invented the carbon filament lamp. The General Electric Company was formed by merging the Edison Electric Company and the Thomson Houston Company on April 15, 1892.