Extend or cut our strips to fit and enhance your décor for a more dynamic, colorful space—with one touch.
Our Full Color Light Strip allows you to:
Choose from millions of colors
Cut and connect up to 32 feet
Install easily with peel-and-stick backing
* Available out of the box with the CYNC Direct Connect Light Strip. CYNC Bluetooth®-only Light Strips require pairing to a CYNC Smart Plug, CYNC Smart Switch, or Google Home or Nest device to enable out-of-home control.
** Voice assistant required.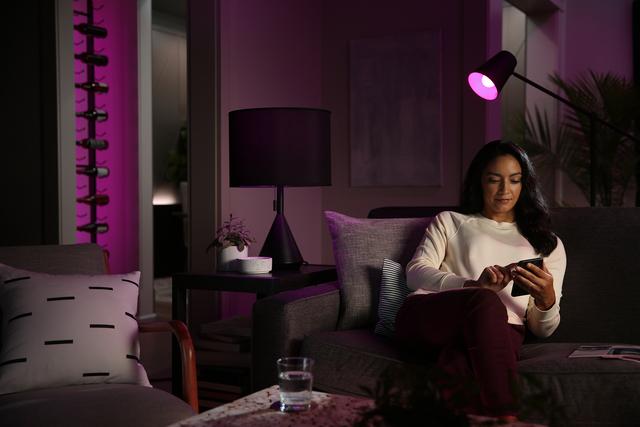 Millions of
color options
Transform your rooms with unlimited accent colors.
Set up dynamic,
colorful spaces.
For optimal

bedroom
lighting.

For next-level

game nights.

For accenting

your style.

For practical

accents.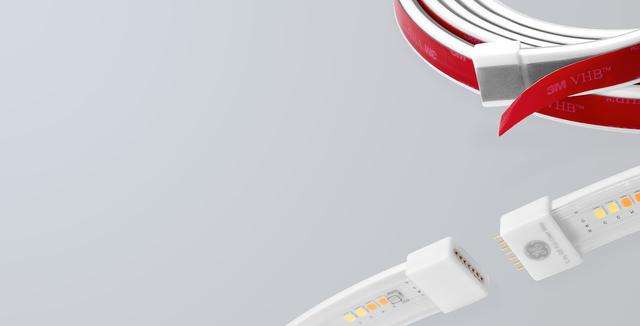 Customize the length.
Install with ease. 
Connect multiple extensions for a longer
strip (maximum 32 feet).
Cut your strip to the perfect length.
Use peel-and-stick back to easily install anywhere.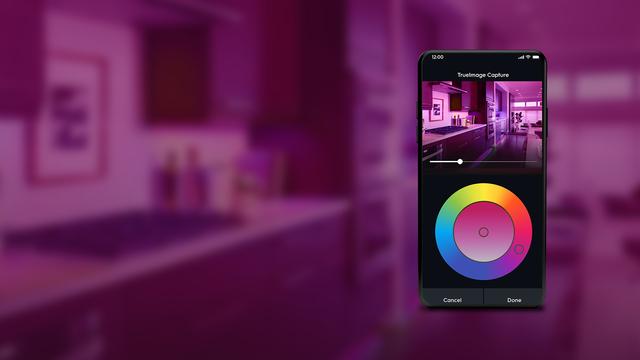 Set and save
your faves
Once you've found some of your signature colors or tones, save them as a preset in the Cync App, powered by Savant, group them with other Full Color Smart Bulbs and Full Color Light Strips to enjoy any time you want. 
Two different
ways to connect.
All CYNC Smart Bulbs and Light Strips are available in two easy connection options. Both provide all the smart features you love—including scheduling, color control, and more. Choose the option that works best for your lifestyle.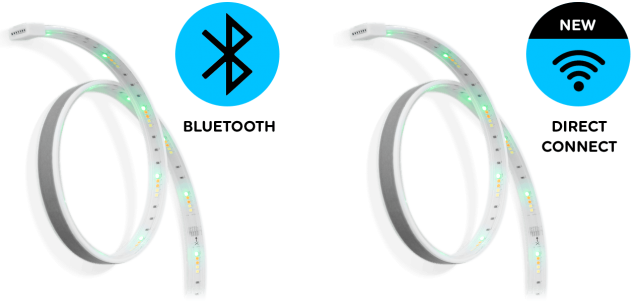 Direct Connect Light Strip
Features
Set and save the perfect scene
Out-of-home control
CYNC or C by GE Smart Plug required.
Works with Alexa
CYNC or C by GE Smart Plug required.
Works with Hey Google
CYNC or C by GE Smart Plug required.
Experience the
smart benefits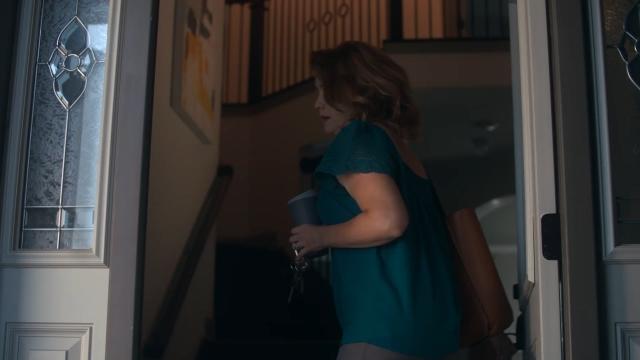 Control with
your voice
Pair your Smart Bulbs and Light Strips with a smart assistant—like Amazon Alexa or Hey Google—for hands-free voice control of your lights.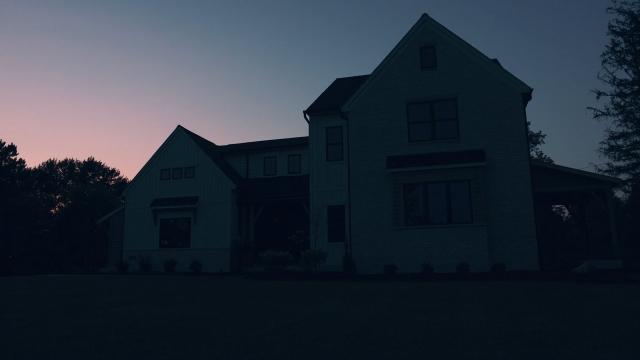 Set lighting to
your schedule
Schedule lights to turn on and off at convenient times to save energy and never come home to a dark house again.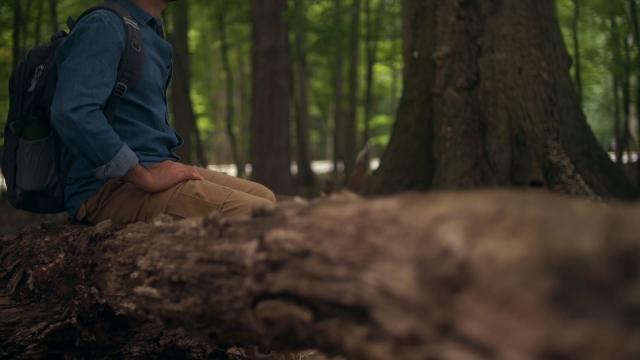 Control away
from home
Get control of lights while you're away from home for a little extra peace of mind. No smart assistant needed.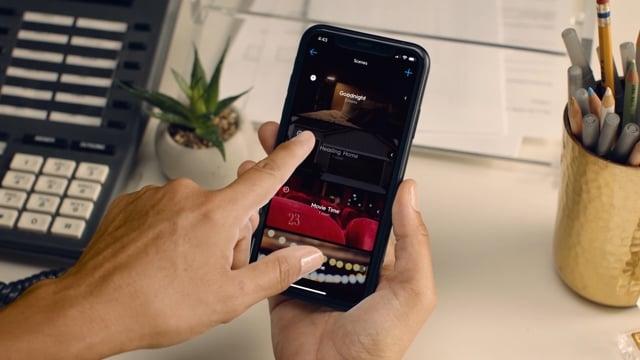 Control all products
with one app
Use the Cync App, powered by Savant, to create custom scenes, set schedules, and control multiple bulbs and Light Strips at once—even if you're away from home.
Smart customer reviews
CYNC Full Color Light Strip

These lights are really cool and look very stylish. I installed the on the underside of my headboard and they light up the entire room! The color choices are endless and you can turn up and down the brightness. No tools needed for installation just peel and stick the adhesive is already on the lights. Just cut to the length you need at the indicated section . Even the power cord. Use your phone to turn it off and on. Easy set up on the phone also. 

Walmart.com, by Barbie

CYNC Full Color Light Strip

I am extremely impressed with how bright and colorful these lights are. I teach in an elementary school and I put these inside my classroom, wrapping around the white board. My students and I love them. I will definitely keep them in my classroom for years to come. Setting the lights up was really easy, I was able to work with my students to install these lights. The app that is needed to change the color of the lights is also really easy to use. They have countless options of the different colors and brightness. I was so excited to get these lights set up in my classroom and they did not disappoint in any way!

Walmart.com, by Forrest

CYNC Full Color Light Strip

This strip light has brought our living room out of the dark ages into the future. Instead of a dreary medieval dungeon, our room is now brightly lit and cheery. With the app you can adjust the lighting to any color on the color wheel and any brightness under the sun. It paired seamlessly with our Alexa and you can even set a timed schedule. Love this light!

Amazon.com, by LadyDevlyn

CYNC Full Color Light Strip

Easy to install and very bright. My son loves the way his room looks.

BestBuy.com, by Javier

CYNC Full Color Light Strip

I wanted to make my new home a modern place. These lights are a great price and really helped make my place stand out. I installed them under my cabinets.

BestBuy.com, by BestBuyFan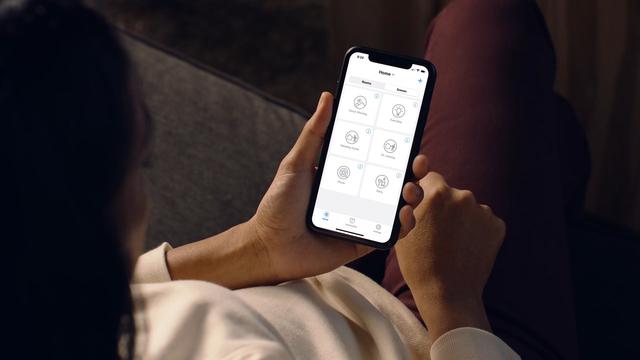 Our family of smart products work together in one app to add comfort, security, and convenience to your life.