Company spearheads LED education campaign to jumpstart consumers' LED journey and eco-friendly habits
Four billion U.S. residential light sockets still need converted to LED
Switching just one bulb to LED will help protect the environment and save consumers time and money
CLEVELAND, Ohio, April 5, 2017 – It's a simple purchase you can make for $5 or less that'll pay big dividends for the environment this Earth Day and put money back into your pocket. Installing just one LED light bulb will generate energy savings enough to buy as many as 40 lattes, cover 16 trips to the movies or pay for some of your other favorite treats.1 Throughout the month of April, GE is encouraging consumers to make a pLEDge to switch even just one light bulb to an LED. To help jumpstart their journey, GE is offering printable LED coupons in conjunction with the pLEDge, as well as a sweepstakes that'll earn one lucky winner a whole-home LED makeover.
By 2020, half of all residential light sockets are expected to be LED. Today, however, LEDs represent just 20 percent of light sockets, leaving many consumers missing out on their benefits.
"LED technology has grown in leaps and bounds over the past few years," said Daraius Patell, North American Consumer Leader, GE Lighting. "A few years ago, LEDs were $40. Today, you can buy an LED for less than $5 for every socket for every room in the home and get them in the traditional shapes with the great light quality you've come to expect from your home lighting. With their energy savings, long life and environmental impact, once you switch just one, you'll realize LED benefits and never look back."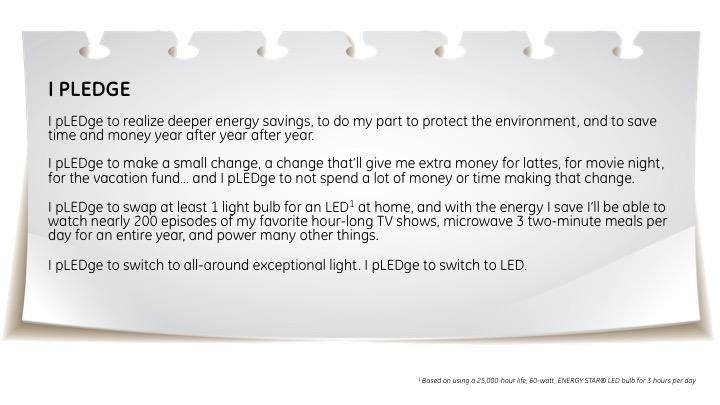 Here are seven starter reasons to pLEDge LED this Earth Day:
7 Billion Pounds of Greenhouse Gas Emissions Reduced – If every American switched out one 60-watt traditional light bulb with an LED. That's equivalent to removing the emissions from 648,000 cars.2
$566 Million Saved – In annual energy costs if every American replaced just one 60-watt traditional light bulb with an LED. That's enough to light 2.6 million homes for a year.2
Nearly 200 Extra Hour-Long TV Shows Powered – If you switched just one 60-watt traditional light bulb with an LED.1
More Easy Meals and Treats – With the energy saved from switching one 60-watt replacement bulb with an LED you could microwave three two-minute meals per day for an entire year. Or, you could buy as many as 40 extra lattes over the bulb's lifetime.1
One Big Vacation Earned – Switching every bulb at home to a LED could save as much as $6,000 over the bulbs' life.3
See your baby off to college – LEDs generally last 13-22 years (based on three hours per day use) and that's 10 to 25 times longer than traditional light sources. If you installed an LED in your newborn's room it could still be running strong by the time you send her off to college or even celebrate her graduation.
Big change made with spare change – Today, you can generally find a branded LED for $5 or less. You can probably find much in your couch cushions and be on your way to deeper energy savings and impactful environmental change.
For more information, to take the pLEDge or to join in the sweepstakes visit www.GELighting.com/pLEDge.
About GE
GE (NYSE: GE) is the world's Digital Industrial Company, transforming industry with software-defined machines and solutions that are connected, responsive and predictive. GE is organized around a global exchange of knowledge, the "GE Store," through which each business shares and accesses the same technology, markets, structure and intellect. Each invention further fuels innovation and application across our industrial sectors. With people, services, technology and scale, GE delivers better outcomes for customers by speaking the language of industry. www.ge.com
Based on using a 25,000-hour, 60-watt, ENERGY STAR® LED bulb for 3 hours per day
ENERGY STAR® Environmental Statistic
Based on using 45, 25,000-hour, 60-watt, ENERGY STAR® LED bulbs for 3 hours per day